Ed Guanill
Owner and President
Ed Guanill is a financial and retirement planning professional with over 18 years of experience in the insurance industry and has been an independent advisor representative since 2012. His career began in 1997 in the banking and merchant-acquiring sector.
Over the years, Ed has worked with several firms to help build their practices and institute his financial principles. Today, Ed helps his clients prepare for retirement using helpful financial principles. His focus is on how to help clients achieve their financial goals by teaching them how to shield their assets from potential market risk, earn competitive rates of return and create multiple retirement income streams that have the possibility to last as long as they do.
Ed is a member of the Registered Financial Planners Institute, RFP®, The Financial Planning Association and The National Ethics Association. He has offices in both Sacramento and San Diego.
---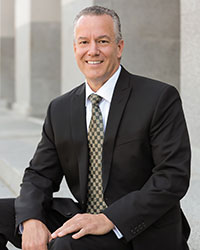 Gary Libhart
Investment Advisor Representative
Gary has 33 years of experience in life insurance and 17 years in money management and financial planning. He focuses on helping to build a happy retirement for the Social Security recipient and those preparing to retire. Gary promotes intelligent investing via the value investing philosophy of Warren Buffet. Since 2010, he has also been active in helping families navigate the financial challenges of long-term care through his insurance agency, Libhart Insurance Services. Gary works with Elder Law and estate planning attorneys to plan efficient transfer of wealth to heirs and charities. Most importantly, Gary will use his experience to help give you peace of mind knowing that your income is well-planned, your family is secure and your hard-earned money will be available to provide the lifestyle you deserve. Gary takes great pride in his family, living with his wife and three of seven children.
Strategic Alliances
Michael Binger, CFA®
President Gradient Investments, LLC
Mike brings over 24 years of institutional equity investment experience to Gradient Investments and its affiliated advisors and clients. He has extensive experience working directly with financial advisors designing and actively managing portfolios. Mike has successfully invested in numerous market and economic cycles giving him a level and depth of experience that is rare in this industry. He spent more than 20 years at Thrivent Financial where he managed numerous equity funds through various economic cycles. Mike's media highlights include numerous appearances, providing market insight on CNBC, Bloomberg TV and Bloomberg Radio.
Mike has also been quoted in The Wall Street Journal, Barron's, Smart Money, Reuters, Business Week and numerous other local, national and global investment publications.
---
Mariann Montagne, CFA®
Portfolio Manager Gradient Investments, LLC
Mariann has 20 plus years of working with both institutional and high net worth clients and has amassed a strong breadth of investment experience in her tenure. This experience includes company and industry sector analysis, risk monitoring and portfolio management in both the equity and fixed income markets. She is highly attuned to economic and market conditions, and has extensive experience selecting individual stocks, ETFs and mutual funds. In addition to being a CFA, she is a member of both the CFA Society of Minnesota and the CFA Institute. Mariann's media highlights include quotes in Barron's, The Wall Street Journal, Fortune, NPR, Washington Post and the Chicago Tribune. She has also appeared on Bloomberg TV and Fox Business News.
---
Jerermy Bryan, CFA®
Senior Portfolio Manager Gradient Investments, LLC
Mr. Bryan is a Senior Portfolio Manager for Gradient Investments. He has been with Gradient Investments since 2016 and has over 15 years of total investment management experience. Mr. Bryan's job history includes equity research and portfolio management roles for institutional asset managers in Minneapolis and New York. He has been a frequent contributor to media outlets including CNBC, Fox Business, Reuters, and The Wall Street Journal. Mr. Bryan graduated with a bachelor's degree from St. Cloud State University, earned an MBA from the University of St. Thomas, and is a CFA® charterholder.
This endorsement of Gradient Investments, LLC is provided by an investment advisor who refers clients to Gradient Investments, LLC. A conflict of interest exists because this investment advisor receives a portion of the annual management fee charged by Gradient Investments, LLC, based on the assets under management of this investment advisor's clients. This endorsement could assist in the investment advisor increasing the assets placed with Gradient Investments, LLC, and therefore their compensation. These investment advisors are not affiliated with or supervised by Gradient Investments, LLC.